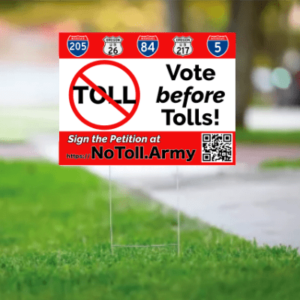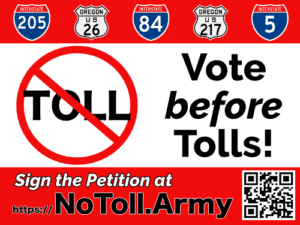 Vote Before Tolls 2-sided yard sign.  Perfect for your yard and/or to bring to a No Toll Army rally!
18 x 24″ two-sided weather-resistant corrugated plastic yard sign.  Includes wire "H-frame" stake to hold the sign.
We can ship these for $9 (they are light but large) but have also set up local inventory for FREE pick up.  Right now we have free pickup sites in Gladstone, Oregon City, and West Linn.  Pick-up address will be provided after you order. Some locations might hand deliver to you, too!
We're looking for folks to help by being an inventory point for local pickup in Tualatin, Wilsonville, Beaverton, Canby, SW Portland, the Rose Quarter area, elsewhere in the Portland tri-county region, and in Salem. Please contact us here.