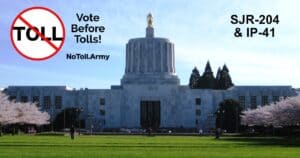 Demand your Legislators get SJR-204 to the floor for a vote!  
PART II
The Vote Before Tolls initiative has been introduced into the Oregon Legislature's short session (February 2022) as SJR-204.
Your emails and phone calls will help us get this resolution passed and move us directly to the November ballot – and eliminate the tremendous effort of gathering 200,000 signatures by July 1st.
Once you share your name and address we will automatically identify your state representatives and create a personalized message that you can send as is or edit as you see fit before sending.
Just one click is all it takes!
Thanks you!