Are there any tolls in Oregon?
Only two - both over the Columbia River - the Bridge of the Gods and the Hood River Bridge.
The proposed I-205 (West Linn/Oregon City) and I-5 (Portland Rose Quarter) tolls are coming and will affect hundreds of thousands of cars a day. ODOT is inferring more tolls will follow if these new tolls are successful.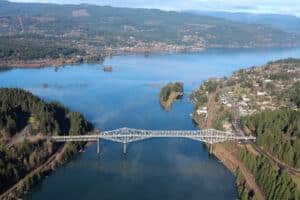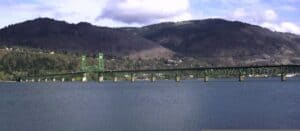 Has Oregon ever had any other tolls?
Yes, but only for bridges, never for highways.  Eight bridges have been tolled with the tolls always removed after the bridges were paid for.
Astoria-Melgar Bridge was opened in 1966.  The cost of the project was $24 million, equivalent to $147 million in 2019 dollars, and was paid for by tolls that were removed on December 24, 1993, more than two years early.[3]
Columbia River Interstate Bridge (I-5) opened in 1917 at a final cost of $1.75 million (equivalent to $35 million in 2020). It was originally a toll bridge costing 5¢ per vehicle or per horse and rider,[5] equivalent to $1.01 in 2020. In 1928 the states of Washington and Oregon jointly purchased the bridge from the counties and discontinued tolling the following year.[1]
Lewis and Clark Bridge spans the Columbia River between Longview, Washington, and Rainier, Oregon. The $5.8 million cost (equivalent to $72 million in 2019 dollars) was recovered by tolls, $1.00 for cars and $.10 for pedestrians (equivalent to $12.37 for cars and $1.24 for pedestrians in 2019 dollars). The state of Washington purchased the bridge in 1947 and the tolls were removed in 1965 after the bridge was paid for.
Madison Street Bridge, or Madison Bridge, refers to two different bridges that spanned the Willamette River in Portland, Oregon, from 1891 to 1900 and from 1900 to 1909. It opened as a toll bridge on January 11, 1891.[5] In 1891, the Oregon state legislature purchased the bridge for $145,000 (equivalent to $3,825,315 in 2015) and eliminated the tolls.[6] 
Morrison Bridge The  original bridge opened in 1887 as a toll bridge (rates: horse-drawn rig - US$0.15, team of horses - $0.20, pedestrian - $0.05) but went toll-free in 1895.[2] The second Morrison opened in 1905, and the present bridge opened in 1958 at a cost of $12.9 million.[2] The second and current bridges we not tolled.

Sam Hill Memorial Bridge (Biggs Rapids Bridge)  (US 97) crosses the Columbia River between Biggs Junction in Sherman County, Oregon, and Maryhill in Klickitat County, Washington opened with tolls in 1962.[2][3] Tolls were removed in 1975.

The Dalles Bridge (US 197) The bridge opened with tolls in 1953 at a cost of $2.4 million (equivalent to $74.66 million in 2020). Tolls were removed when the bridge's construction bond (which had been issued by Wasco County in Oregon) was paid off.[2]
Umatilla Bridge (I-82/US 395) crosses the Columbia River at the Washington–Oregon border. The first bridge of the two bridge pair opened in July 1955 financed by $10 million worth of bonds and operated as a toll bridge[3] until 1974,[4] when the bonds were fully repaid.[5]
Why is stopping this first highway tolling project so significant?
Once the first toll is in and everybody had acquired a transponder for their vehicles, it will be trivial for ODOT to expand tolling to other highways across the state and increase tolls in places they are already tolling. We don't want to be treated like frogs.